1
« on: April 14, 2018, 11:29:25 AM »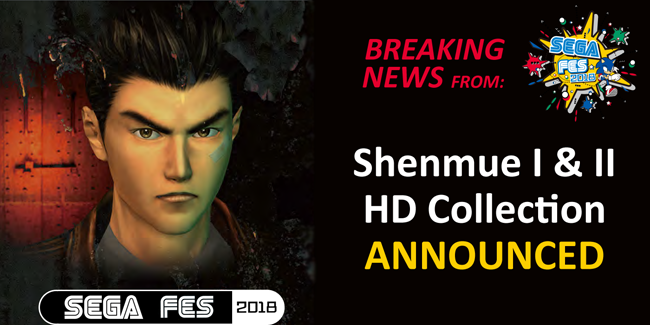 BOOM! And there it is. #ShenmueSaved
Sega has just confirmed a new Shenmue 1 & 2 collection by unveiling a brand new trailer during SEGA PES 2018 in Tokyo:
https://www.twitter.com/SEGA/status/984974525245747200
https://www.twitter.com/SEGA_OFFICIAL/status/984971035354124288
http://shenmue1-2.sega.jp
Updated versions of the first two games in the series will be released by Deep Silver as a single package on PlayStation 4, Xbox One, and PC. (Yes, you read that correctly: there will be an Xbox One version, despite the same publisher's Shenmue 3 by Ys Net launching on PS4 and PC only.)
The new collection will allow players to select between Japanese or English audio, as well as between original or new control schemes.
This announcement marks the conclusion of the #SaveShenmueHD campaign, which has been running since 2015 following the successful crowdfunding of Shenmue 3. We will have a lot more to say on this soon, including details of where we go from here as an organized community that congregates on Twitter every 3rd of the month. But for now, we are taking a short break! We'll see you back here in a week or so. Thank you so much for your support on the journey to this long-awaited announcement of Shenmue 1 & 2 on modern platforms.
In our brief absence please be sure to keep up to date with news and developments by following these reliable Facebook pages and Twitter accounts:
https://www.facebook.com/ShenmueForever
https://www.facebook.com/switchblog
https://www.facebook.com/ShenmueDojo
https://www.facebook.com/Shenmue.Master
https://www.facebook.com/ShenmueDE
https://www.twitter.com/ShenmueForever
https://www.twitter.com/phantom_river
https://www.twitter.com/shenmueguide
https://www.twitter.com/Shenmue_Dojo
https://www.twitter.com/ShenmueMasterFR
https://www.twitter.com/shen500k
https://www.twitter.com/shenmuede