Team Yu needs YOU to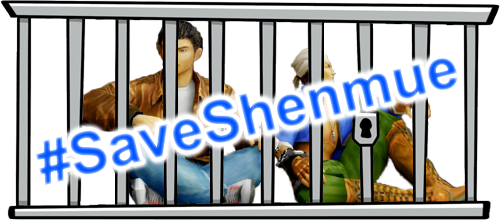 On the 3rd day of each month, gamers unite on social media to speak out for Shenmue, a defining series of videogames abandoned by Sega without conclusion at the turn of the century. Legendary designer Yu Suzuki remains keen to complete his masterpiece and satisfy the unwavering demand of customers left hanging by the tantalizing climax of Shenmue II on the original Xbox and Dreamcast. But he can't get to work without commissioning by Sega, who own the license and refuse to fund the project without investment from a major console maker. Help us increase the pressure on the parties who need to act in order for Suzuki-san to get his wish.
To join the campaign, sign up for this IFTTT recipe once:
...and follow the 3 simple steps below each month:
1) Thunderclap (anytime)

- Once a month sign up to our latest

Thunderclap

page

- Support via Twitter, Facebook and Tumblr

- Stores your customized messages until the 3rd

- Automatically releases all stored messages simultaneously

Time until Thunderclap triggers: 8 days, 20 hours, 36 minutes

---

2) Tweet / Post / Blog on the 3rd

- Help create constant activity throughout the day

- Whether you've signed up on Thunderclap or not

- Promote the

link

to this page in your messages

---

3) Retweet / Share / Reblog on the 3rd
Above all, the key to the #SaveShenmue campaign is to
SPREAD THE WORD AND BE HEARD ON THE 3RD!
---
For all the latest campaign updates, follow Team Yu's social accounts:


You can also stay posted on the most important updates by email,
using the "FOLLOW THIS ORGANIZER" button on Thunderclap (when signed in).
---
Website owners! You can help us...
To promote the campaign on your site, you can embed the #SaveShenmue widgets seen on this page. Using the HTML codes below, your site will be automatically updated with the latest details, keeping your visitors informed of current progress.
IFTTT (one-time sign-up):
Thunderclap (monthly sign-up):
If you're thinking of writing an article about the campaign, please feel free to contact us for information: TeamYuNeedsYOU@gmail.com